КРЕМА ПРОТИВ СТАРЕЕЊЕ q10 q10 Krema q10 cream krema protiv stareenje krema protiv stareene bioaqua alternative bioaqua bioaqua alternativa mk pure essential oil gold day krema protiv brcki eucerin krema protiv brcki krema za brcki hidratantna krema hidratantna krema za lice hidratantna krema za lice za mrsna koza hidratantna krema za mrsna koza kozu hidratantna krema za lice forum
hidratantna krema za lice dm hidratantna krema za lice sa spf hidratantna krema so spf hidratantna krema za raci hidratantna krema za obraz hidratantna krema za lice mk крема против стареење krema protiv stareenje krema protiv stareene anti aging krema anti age krema za lice anti wrinkle nivea krema anti age krema za obraz anti age krema 30+ anti age krema 35+ anti age krema za oci krema za oci krema za okolu oci krema za oci antibiotik
ANTI AGING CREAM WITH OZONE & ALOE VERA
Features:
The combination of ozonized olive oil and Aloe Vera works effectively to reduce wrinkles. It gives the skin a firm and elastic look. This effective formula provides extra beauty to the skin.
Ingredients:
Aqua, Ozonized Olive Oil, Paraffinum Liquidum, Panthenol, Petrolatum, Glyceryl Stearate, Ceteareth-20, Ceteareth-12, Cetearyl Alcohol, Cetyl Palmitate, Heptapeptide-15 Palmitate, Copper Palmitoyl, Heptapeptide-14, Lactic Acid, Glycolic Acid, Cetearyl Alcohol, Stearic Acid, Glycerin, Tocopherol, Phenoxyethanol, Ethylhexylglycerin, Dimethicone, Aloe Barbadensis Leaf Juice, Maltodextrin, Parfum, Allantoin, Carbomer, Disodium EDTA
Caution:
Keep out of reach of children. Do not swallow. Keep away from direct sunlight. Keep in a cold and dry place. Avoid contact with the eyes. In case of any undesirable effects, contact with the eyes or swallowing the product please contact your doctor.
How to use:
It is suitable for everyday use, and it is applied in the evening on clean skin.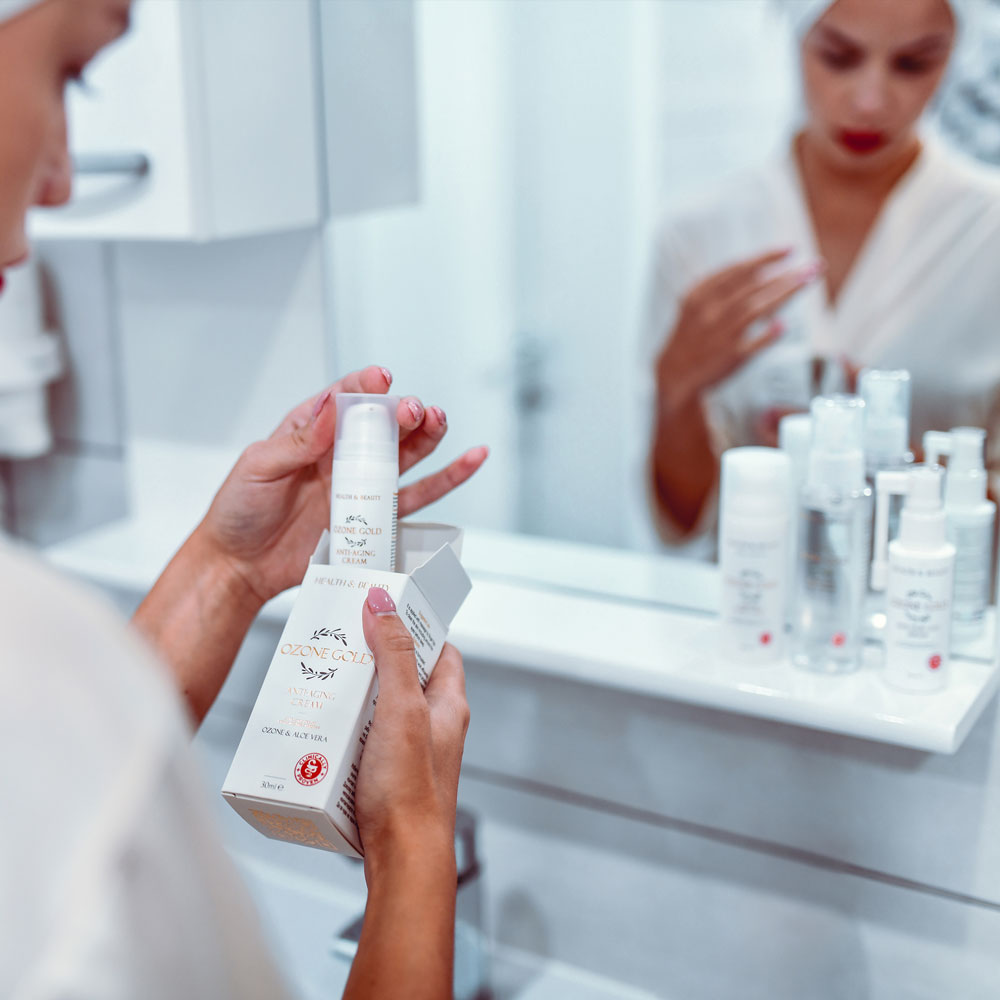 ---
Useful links:
OZONE GOLD – SUN CREAM 50SPF КРЕМА ЗА СОНЦЕ 50SPF – 50ml
OZONE GOLD – MOISTURIZING CREAM 15SPF OZONE & ALOE VERA ANTI-AGING – 50ml
OZONE GOLD – OZONE FACTOR OZONIZED OLIVE OIL SOFT GEL CAPSULES
Mechanisms of action involved in ozone therapy in skin diseases
Role of ozone in skin diseases
Hyaluronic acid in dermatology
Hyaluronic acid and wound healing
sa spf hidratantna krema so spf hidratantna krema za raci hidratantna krema za obraz hidratantna krema za lice mk крема против стареење krema protiv stareenje krema protiv stareene anti aging krema
anti age krema za lice anti wrinkle nivea krema anti age krema za obraz anti age krema 30+ anti age krema 35+ anti age krema za oci krema za oci krema za okolu oci krema za oci antibiotik